Jetstream JTPS14M Switching Power Supply Mods
Adding Anderson Power Poles
Modifying Fan Circuitry

After making changes on my 35 Amp supply I thought I would do the same to my little 14 amp supply.
The modifications are similar to those I did on the 35 amp supply.
Add a resistor to the fan circuitry to keep the fan on at all times at a low speed.
This little power supply's fan is noisy, and comes on all the time. Even with just a mobile sitting on it in receive.
Add Anderson Power Poles to the back and front of the power supply.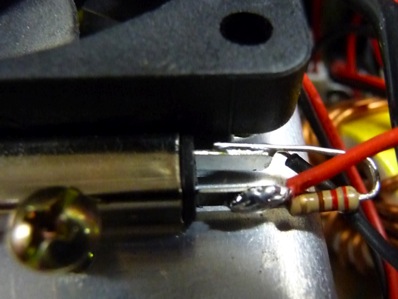 220 Ohm resistor added to the tabs on the fan control thermister.
This keeps the fan on at a slow quite speed. The fan still can come up to full speed if the power supply gets to warm.
The switch on the back that allows the fan to be on full all the time also works as before.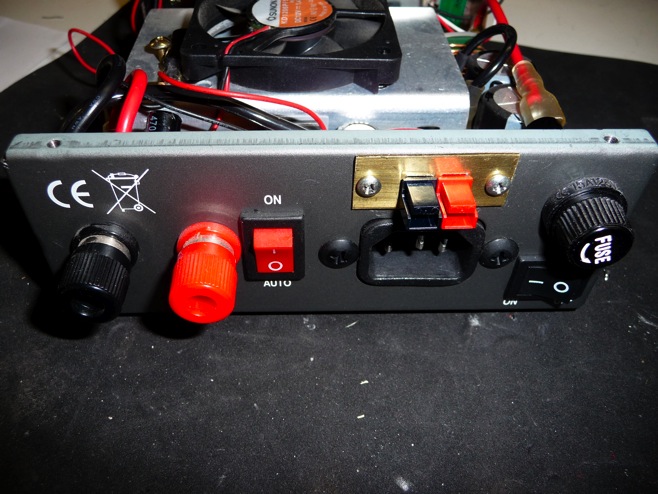 Here you can see where I mounted the Anderson Power Poles.
There just is not enough room to get one of the chassis mount holders in here.
There was also no room on the front to put any in without removing the voltage adjustment potentiometer.
I removed the 110/220 voltage selection switch on the back, and hardwired the power supply for use with 110 volts.
This allowed room for 1 pair of Anderson's. I cut a small bracket out of brass to hold the single connector, and used the existing holes that held in the power selection switch to mount it. I did have to open the hole up a bit to get the connectors to fit.
Next project will be adding Power Poles to the Astron 35, and Triplite-60
73 de KB9JJA/Dale