Here is a simple solution for a missing draw bar wrench for the Clausing 8520 mill.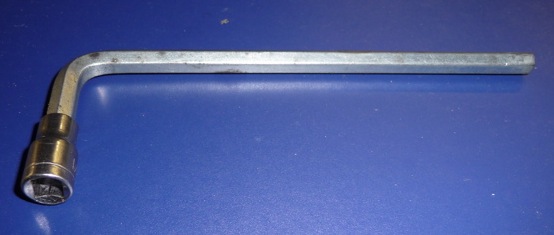 My mill was missing the wrench for the drawbar. I was using a small 1/4 inch wrench but it was a bit of a pain to use and a little too short to get enough leverage to loosen the collets. I cam up with this simple solution.
The draw bar has a 1/4 inch square on top of it just as a 1/4 Inch ratchet does. I grabbed a socket, to test the fit, but it would not slip over the end of the drawbar. It was mushroomed out a bit from me hitting it with a hammer. A quick fix with a file took care of that.
Now I had something that fit the drawbar, and was a good fit for the small hole in the drawbar keeper. All I needed to do was weld a handle on it. My son had my welder at his house so I would have to wait until he returned it.  Then dad another idea. I went and grabbed a 1/4 inch allen wrench, and it fit in the 1/4 inch socket that I was using. A little silver solder and my new drawbar wrench is completed.
This works great and I no longer have to hit the draw bar with a hammer to realize the end mill holders or the collets.
From my original web pages December 9th 2009
Dale